Need something extra for that Family Get Together, Birthday, Wedding Rehearsal Dinner, Reception, or Business Event. Let us make you a SlideShow Video that contains your photos and/or video files intermixed along with background music that your whole family can enjoy. Once your family members view all the old photos intermixed with the new photos there will be uproars of laughter during the whole video.  Includes scanning of up to 150 pictures (and /or video clips at extra charge), Intro and ending frames, music background ( supplied by customer or we can supply at a nominal charge), transitions, and minimum special effects. Please note that pictures will be scanned and put in the video in the order given.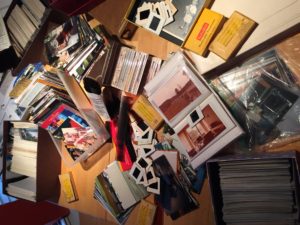 .
Price List for SlideShow Video
Item
Price
Slide Show Video up to 20 minutes duration.
Includes 160 (up to 4x6) photo scans and 4 hrs editing. Comes with Custom color DVD, DVD case, 1 Mpeg4 file with Flash drive.
$250
As above but 21 to30 minute duration.
$300
Extra DVD
or Custom Color DVD
Extra Mpeg4 file and Flash Drive
$10ea
$20ea
$30
DVD Case w/ Color Insert

$18ea
Additional Editing
$55 hr
To take out and reinstall photos in scrapbooks and/or slides in carousels
$55 hr
On-Site Service charge for travel call and equipment set up, 1st 30 miles.
$125
We can also save Digital Files to an External Drive for $15.00 per file. The drive is to be supplied by the customer or MVS will supply the drive for a nominal charge.
NOTE: Due to age of Media we are not responsible if media breaks or is damaged. We  will however try to fix damage to complete project.
Minimum Conversion Charge @ $30.00
Free Shipping on orders over $250.00